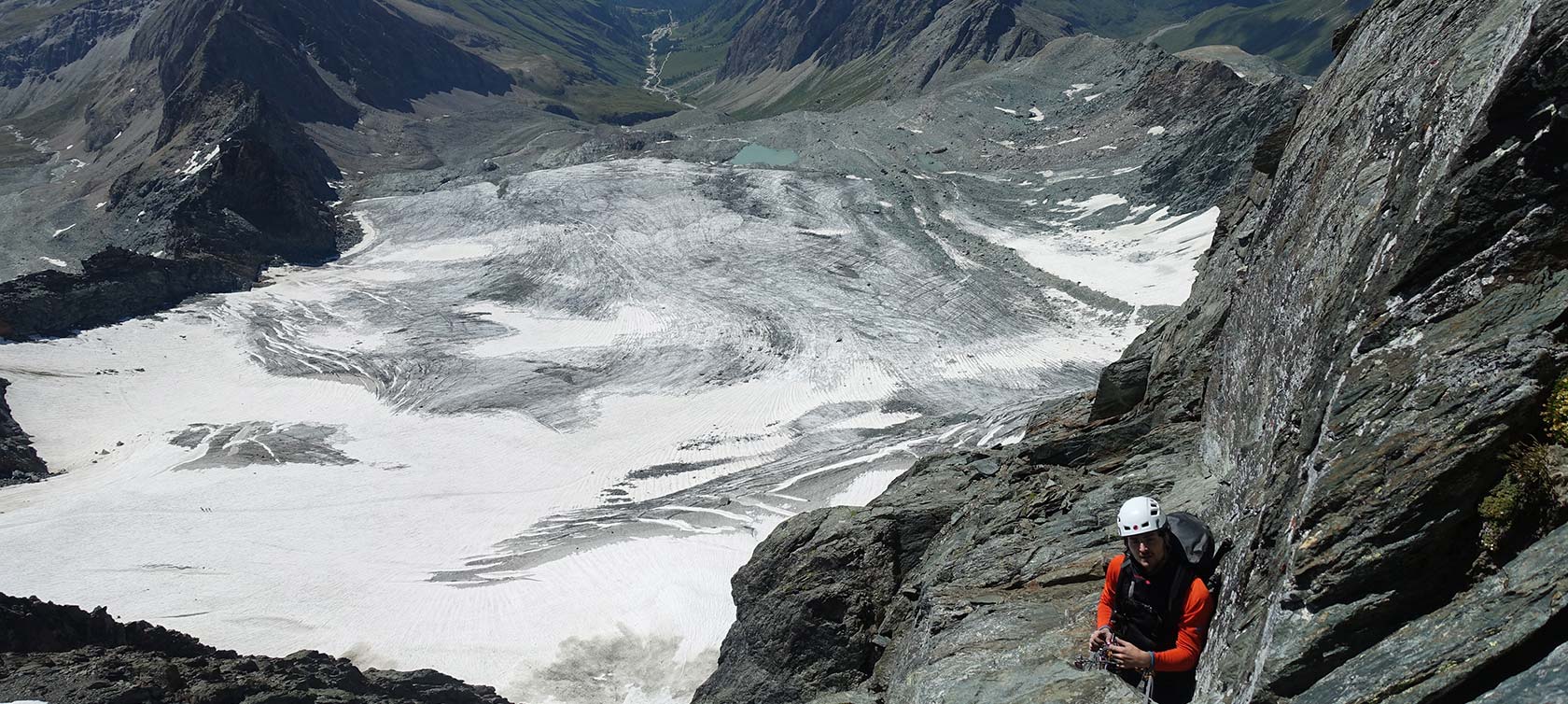 Osttirol ist ein wahres Mekka für Kletterer! Die kalkigen Lienzer Dolomiten und Karnischen Alpen bieten eine Vielzahl an Routen jedes Schwierigkeitsgrades und Länge, darunter auch einige Klassiker, die wie der "Alpenrautekamin" bzw. die "Direkte Laserznordwand" auch als "Pause-Klassiker" verewigt sind. Demgegenüber stehen die Hohen Tauern, die in den letzten Jahren auch von Kletterern "entdeckt" worden sind. Gneiswände und kompakte Grünschieferplatten ineiner straßennahen oder auch hochalpinen Umgebung bietet die perfekte Ergänzung zu den "bleichen Bergen" im Süden. Die Vielfältigkeit und Ruhe machen unsere Region aus!
Im 4-Tages Trip Osttirol Plaisir werden Sie gemeinsam mit den besten Kenner der Region Routen, Täler und Berge entdecken, wobei genau auf Ihre Wünsche eingegangen wird.
Um eine gute Übersicht über die Routenvielfalt die Osttirol zu bieten hat zu bekommen, ist unsere Empfehlung der Kletterführer "Osttirol" von ROCKGUIDE Vittorio Messini, erhältlich im Shop Alpinaustatter Zimml oder im Internet auf versantesud.it oder bergsteigen.com
Price
ab 1440,00 € für 1 Person
ab 720,00 € für 1-2 Personen
Ist man in der Region Osttirol einmal angekommen, wird ein individuell zugeschnittenes Programm angeboten. Je nach Kletterkönnen, Kondition, Wetter und Verhältnissen werden die ROCKGUIDES, die die Routen in der Region wie ihre eigne Westentaschen kennen, dich/euch über einen passenden Eisfall guiden!
Dadurch, dass die Autobahnen etwas weiter entfernt sind als bei manch anderen Regionen sind, ist die Region Osttirol glücklicherweise von den Massen verschont geblieben. Also kann man ruhig am Wochenende zu bekannten Klettertouren zusteigen, ohne Angst vor vielen anderen Seilschaften zu haben!
Da wir praktisch keine Anreise haben, bieten wir Ein- und Mehrtagestouren, ohne für unsere Gäste zusätzlich anfallende Spesen an (Ausnahme sind höher gelegene Routen, wo eine Übernachtung In der Hütte zwingend ist). Ruft an, oder schreibt uns eine e-mail, wir beraten dich/euch gerne und stellen dir/euch ein passendes Programm zusammen!
Die Region Osttirol liegt eingebettet zwischen Kärnten, Südtirol, Salzburg und Friaul im Herzen der Ostalpen. An den Toren Osttirols ist man nach Verlassenen der Inntalautobahn bzw. der Tauerntalautobahn in bereits 45min Fahrzeit.
Um die Preise überschaubar zu halten, sind die Kursteilnehmer selbst für die Anreise und etwaige Fahrten während des Kurses verantwortlich. Zudem ermöglicht es auch flexibel zu sein um auf Wetterumschwünge möglichst rasch zu reagieren.
apparel and equipment list
Technical material is included in the price.
Since we do not climb constantly, there can be "standing times" in cold temperatures, so make sure to bring along enough warm clothes - one cools down quite quickly!
We recommend you bring light clothing of varying thickness to achieve an "onion system" for greater comfort. Cotton is not suitable as it quickly becomes cold upon getting wet. Skiing apparel, however, works well. Our recommendation: warm merino underwear and a fast warming down jacket.
We recommend:
long underwear (bottom and top), synthetic, merino or wool
warm pants (lined or fleece)
warm fleece or long sleeve shirt (not cotton)
lined jacket or vest, preferably down jacket
waterproof jacket with hood (Gore-Tex or nylon)
waterproof pants (Gore-Tex or nylon)
socks (merino or ski socks)
woolen cap or lined cap that protects your ears and fits under a helmet
waterproof climbing gloves (2 pairs)
solid mountain boots (in exceptional cases ski boots are also possible)
gaiters if necessary
Buff (neck protection)
a minimum 25 litre backpack (space for clothing, snacks, drinks, climbing equipment)
sun protection (glasses and cream)
thermos or water bottle (already full!!!!)
camera
personal medicine
If you want to take your own technical material with you: (otherwise rental equipment included in the price)
crampons: must fit the shoes and be easily adjustable, with vertical front teeth
climbing harness: always with adjustable leg loops
climbing helmet
ice axe: steep ice axe
screw carabines
backup device: reverso, ATC or similar
NOT INCLUDED IN THE PRICE
travel to destination
drive to the respective ice climbing area or icefall
accommodation costs before, during or after the courses
travel expenses for the mountain guide
accommodation for the mountain guide (for tours of 2 days or more)
travel and cancellation insurance
personal climbing apparel
tip