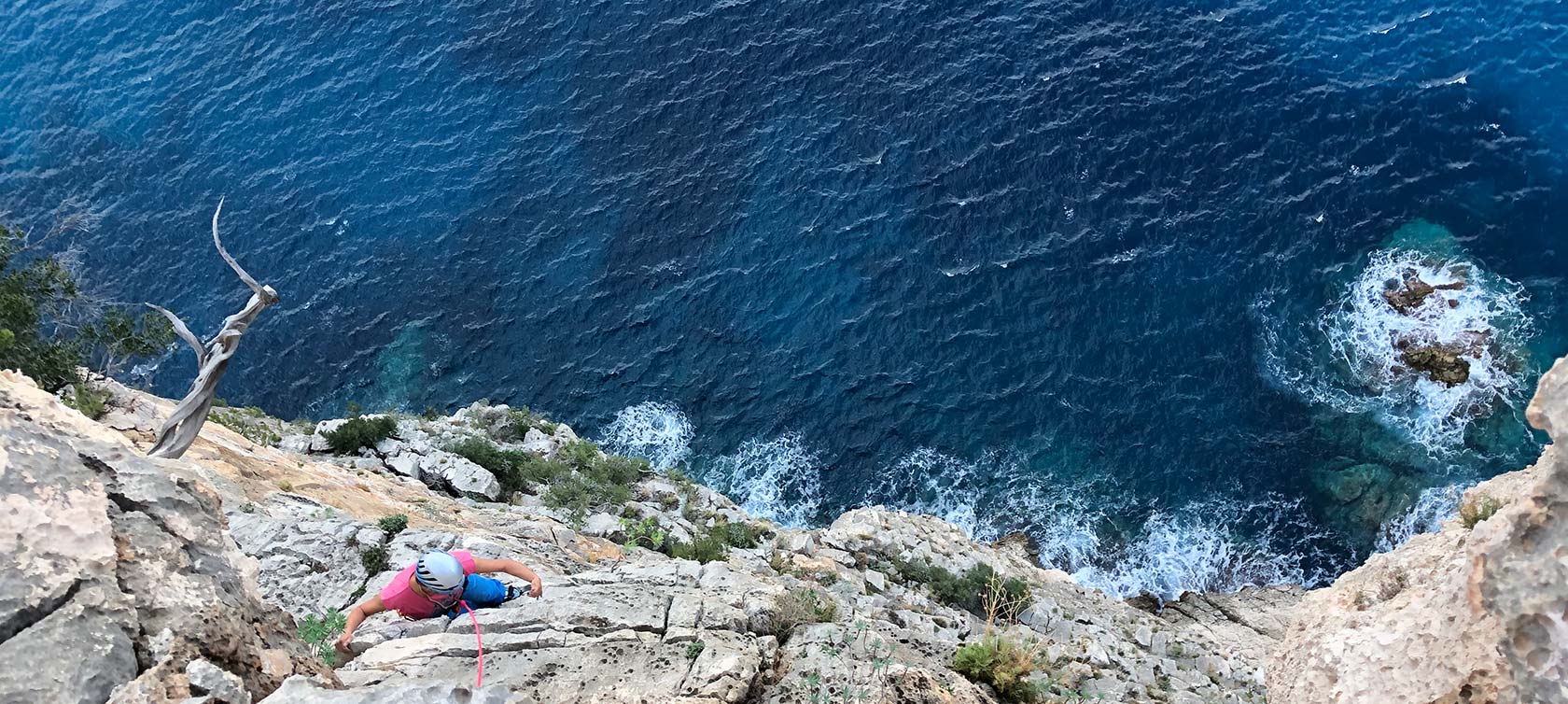 Eine Insel der Superlative - mit anderen Worten kann man Sardinen nicht besser beschreiben. Ähnlich wie Osttirol bietet Sardinien auf der Insel alle Arten von Klettereien an unterschiedlichen Gesteinsarten und oben drauf noch mit weitreichenden Aussichten zum Meer und köstlichstem Essen. Das "Kletterzentrum" Sardinien ist zweifellos Cala Gonone, wobei hier eher der Sportkletterer Gefallen finden wird. Das Gebiet östlich und nordöstlich von Baunei, das sog. "Supramonte" darf nicht ausgelassen werden. Hier kann das "richtige Sardinien" in all seiner Ursprünglichkeit noch genoßen werden. Die steilen Küstnkletterei im Südwesten sind zum Einklettern der Hammer, sowie die Trad Klettereien an den Granittürmen von Capo Pecora, die mehr an England als an eine Mittelmeerinsel erinnern. Ähnliches hat auch der äußerste Nord Sardinien bei Capo Caccia zu bieten. Wie man sieht ist eine Reise zu den Mutlipitch climbs Sardiniens nicht ausreichend um nur annähernd alle lohnenden Gebiete zu besuchen. Wer einmal in Sardinien war kommt sicher wieder!
Season
April - Mai und September - Oktober
Price
ab 2520,00 € für 1 Person
ab 1260,00 € für 1-2 Personen
Sportklettern ab 630,00 € (ab 1-4 Personen)
1 Tag: Je nachdem wie die Anreise verläuft treffen wir uns zu Mittag auf der italienischen Seite vom Brenner bei der Ausfahrt in Brixen. Von hier an können wir gemeinsam mit einem Auto zum Hafen von Livorno in die Toskana fahren. Mit der Fähre fahren wir über die Nacht bis nach Olbia. Sobald das Festland wieder erreicht ist fahren wir weiter bis nach Cala Gonone, wo wir am gleichen Tag noch eine schöne Einklettertour machen werden. Je nachdem ob ihr schon mal in Sardinen klettern wart oder nicht werden wir ein passendes Programm mit den Highlights rund um Sardinien zusammenstellen, eine Möglichkeit könnte sein:
2 Tag: Klettern in Surtana, Überstellung nach Baunei
3-4 Tag: Klettern an der Pedra Longa und an der Cala Goloitzè
5 Tag: Abstecher zum Jurassic Parc zum "Dillosauro" und Weiterfahrt an die Westküste
6 Tag: Granit oder Kalk? Auf jeden Fall an der Küste, am Abend fahren wir anschließend wieder nach Olbia, wo wir in der Nachfähre wieder nach Livorno gelangen werden.
7 Tag: Heimreise
Gerne gestalten wir euch ein Programm zum Sportklettern bzw. bieten wir auch hier unsere Kletterkurse an!
Ruft an, oder schreibt uns eine e-mail, wir beraten dich/euch gerne und stellen dir/euch ein passendes Programm zusammen!
Sardinien ist eine Mittelmeerinsel. Um diese zu erreichen kann man entweder ins Flugzeug steigen oder ins Auto. Je nachdem wo die Autofahrt startet ist eher diese Variante die günstigere und zu bevorzugen. Weiteres zur Anreise oben im Programm.
Um die Preise überschaubar zu halten, sind die Kursteilnehmer selbst für die Anreise und etwaige Fahrten während des Kurses verantwortlich. Zudem ermöglicht es auch flexibel zu sein um auf Wetterumschwünge möglichst rasch zu reagieren.
apparel and equipment list
Technical material is included in the price.
Since we do not climb constantly, there can be "standing times" in cold temperatures, so make sure to bring along enough warm clothes - one cools down quite quickly!
We recommend you bring light clothing of varying thickness to achieve an "onion system" for greater comfort. Cotton is not suitable as it quickly becomes cold upon getting wet. Skiing apparel, however, works well. Our recommendation: warm merino underwear and a fast warming down jacket.
We recommend:
long underwear (bottom and top), synthetic, merino or wool
warm pants (lined or fleece)
warm fleece or long sleeve shirt (not cotton)
lined jacket or vest, preferably down jacket
waterproof jacket with hood (Gore-Tex or nylon)
waterproof pants (Gore-Tex or nylon)
socks (merino or ski socks)
woolen cap or lined cap that protects your ears and fits under a helmet
waterproof climbing gloves (2 pairs)
solid mountain boots (in exceptional cases ski boots are also possible)
gaiters if necessary
Buff (neck protection)
a minimum 25 litre backpack (space for clothing, snacks, drinks, climbing equipment)
sun protection (glasses and cream)
thermos or water bottle (already full!!!!)
camera
personal medicine
If you want to take your own technical material with you: (otherwise rental equipment included in the price)
crampons: must fit the shoes and be easily adjustable, with vertical front teeth
climbing harness: always with adjustable leg loops
climbing helmet
ice axe: steep ice axe
screw carabines
backup device: reverso, ATC or similar
NOT INCLUDED IN THE PRICE
travel to destination
drive to the respective ice climbing area or icefall
accommodation costs before, during or after the courses
travel expenses for the mountain guide
accommodation for the mountain guide (for tours of 2 days or more)
travel and cancellation insurance
personal climbing apparel
tip