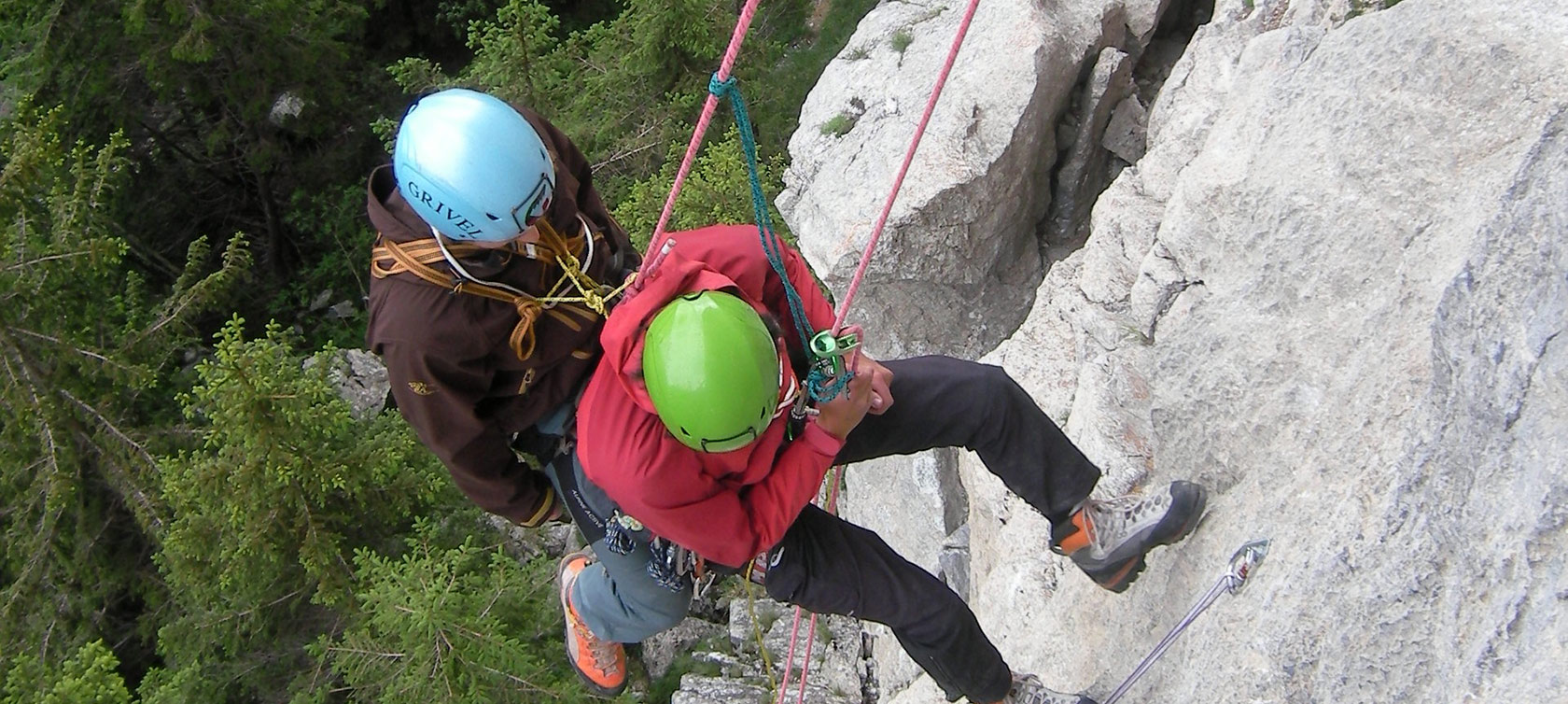 Rettungstechniken für Kletterer
Der Vorsteiger ist 30 Meter schräg links oben entfernt und klettert mit einem 50m langen Seil. Er fällt und bleibt bewusstlos hängen. Wissen Sie was zu tun ist? Können Sie sich mit den technischen Aspekten einer komplexen Seilrettung befassen?
Lernen Sie die Grundlagen der Selbst- und Kameradenrettung auf Felsen. In unserem Rettungskurs für Kletterer erhalten Sie das nötige Basiswissen, damit Sie sicherer mit einer Notsituation in einer Kletterroute umgehen können. Wenn man es sich genau überlegt ist dies ein Muss für jeden aktiven Sport- und Alpinkletterer.
Wenn die von uns angegebenen Termine nicht wahrgenommen werden können, bieten wir natürlich dasselbe Programm auch außerhalb der vorgeschlagenen Termine!
Expressflaschenzug
Erweiterter Expfressflaschenzug mit Lastübertragung
Seilrollenflaschenzug
Kameradenrettung bei Quergangs- oder Vorstiegssturz
Abseilen über Mehrseillängeneinfall mit Verletzten
Basics in medizinischer Versorgung eines Verletzten
Treffpunkt um 8:00 Uhr im Rockguides Basecamp Alpinausstatter Zimml in Lienz oder im Klettergebiet
Begrüßung, Einführung, Ziele
Check der Ausrüstung
Minimum an Ausrüstung für das Durchführen einer Rettungsaktion
Standplatzbau
verschiedene Geräte (Traxion, ATC, Tibloc,…)
verschiedene Knoten (Geflecht, Wasserklang)
Grundzüge der Rettungssysteme (Körperflaschenzug usw.)
Übungsszenarien im Klettergarten in geringer Höhe
Gurtordnung
verschiedene Szenarien
Aufstieg am Seil
Hinaufziehen des Verletzten
Passives Abseilen des Verletzten
Aktives Abseilen mit einem Verletzten Kletterer
Übungsszenarien im Klettergarten in geringer Höhe
location / meeting point / how to get there

The Level 1 - Climbing Course takes place in the Ice Park East Tyrol (if otherwise it will be announced at registration). Meeting point is the Matrei Tauernhaus.
In order to keep the prices manageable, the individual course participants are responsible for the journey to the destination and necessary drives during the course. On top of that, it allows you to be flexible and to undertake further activities, such as ski tours in East Tyrol.
Accommodation and food are not included in the price. However, in addition to the ideal base for the East Tyrolean Ice Park, the Matrei Tauernhaus, there are plenty of accommodation options in Matrei or other places in East Tyrol. We recommend you book the accommodation early enough, as especially in the high season (Christmas, February - March), places are often fully booked.
The tourist information office Matrei in East Tyrol is at your disposal for further information.
www.matreiosttirol.com/service/oeffnungszeiten/
Lastly, do not forget a snack (e.g. sweets, power bars, etc.) and liquid for the day. We recommend to bring warm drinks in a thermos.
You can reach the The Ice Park East Tyrol and the Matrei Tauernhaus in:
30 min. from Lienz (35 km)
50 min. from Kitzbühel (55 km)
50 min. from Zell am See (50 km)
1.5 h from Spittal an der Drau (110 km)
2 h from Salzburg (150 km)
2 h from Innsbruck (145 km)
2.5 h from Munich / Germany (180 km)
3.5 h from Graz (320 km)
4 h from Nuremberg / Germany (450 km)
4.5 h from Vienna (445 km)
Basecamp
12.76677834999998140120
46.82856616692768625398
: 01.01.1970 01:00
9
0
0
0
0
Basecamp
Österreich
//maps.google.at/maps?q=M%C3%BChlgasse%2015%2B9900%2BLienz
/en/klettern-kurse/kletterkurs?tx_courses_course%5Baction%5D=show&tx_courses_course%5Bcontroller%5D=Course&tx_courses_course%5Bpoi%5D=9&cHash=49472e110ccdc0fa65bc9647246cd8f5
apparel and equipment list
Technical material is included in the price.
Since we do not climb constantly, there can be "standing times" in cold temperatures, so make sure to bring along enough warm clothes - one cools down quite quickly!
We recommend you bring light clothing of varying thickness to achieve an "onion system" for greater comfort. Cotton is not suitable as it quickly becomes cold upon getting wet. Skiing apparel, however, works well. Our recommendation: warm merino underwear and a fast warming down jacket.
We recommend:
long underwear (bottom and top), synthetic, merino or wool
warm pants (lined or fleece)
warm fleece or long sleeve shirt (not cotton)
lined jacket or vest, preferably down jacket
waterproof jacket with hood (Gore-Tex or nylon)
waterproof pants (Gore-Tex or nylon)
socks (merino or ski socks)
woolen cap or lined cap that protects your ears and fits under a helmet
waterproof climbing gloves (2 pairs)
solid mountain boots (in exceptional cases ski boots are also possible)
gaiters if necessary
Buff (neck protection)
a minimum 25 litre backpack (space for clothing, snacks, drinks, climbing equipment)
sun protection (glasses and cream)
thermos or water bottle (already full!!!!)
camera
personal medicine
If you want to take your own technical material with you: (otherwise rental equipment included in the price)
crampons: must fit the shoes and be easily adjustable, with vertical front teeth
climbing harness: always with adjustable leg loops
climbing helmet
ice axe: steep ice axe
screw carabines
backup device: reverso, ATC or similar